If you've managed to miss reading this site the last few weeks, you might have not have noticed that burbed was nominated for, and won, this award from Zillow: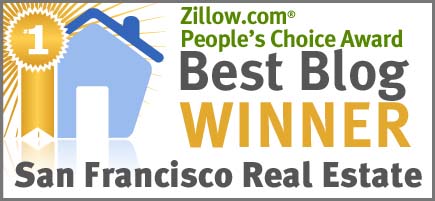 There's one problem.  It turns out there was also an award for Best Blog in San Jose Real Estate, and burbed wasn't even nominated.  So that means we can't discuss Palo Alto anymore. 
Good thing burbed reader AJT sent in this San Francisco property, along with a comment about walking by the place and then finding out it was for sale.  And even better, look what was listed two years ago, thanks to Herve:
Burbed reader Herve thought it would be good to point this unique property out. Apparently it's been on the market 2 years ago for $75 million (really?).

In any case, it is now just at $48 million – another sure sign the real estate market has bottomed out and that it is now a great time to jump back in.

Just think, if you got a smart enough mortgage, you could easily buy this and get at least $22 million in instant equity. Wowsers!

What are you waiting for?
Wowsers!  If the price was cut from $75 million in 2006 to $48 million in 2008, then it should be down to $31 million in 2010, right?
BEDS: 7
BATHS: 7.5
SQ. FT.: –
LOT SIZE: –
PROPERTY TYPE: Detached, Single-Family Home
STYLE: Custom
VIEW: Panoramic, City Lights, Water, Bay, Bay Bridge, Golden Gate Bridge, San Francisco, Downtown, Marina, Ocean, Park, Garden/Greenbelt, Hills, Mt. Tamalpais, Twin Peaks
YEAR BUILT: 1927
COMMUNITY: Pacific Heights
COUNTY: San Francisco
MLS#: 322933
SOURCE: San Francisco MLS
STATUS: Active
ON REDFIN: 1226 days

Italian Renaissance hilltop mansion on the Gold Coast, near Presidio. Expansive Golden Gate & north Bay views from almost every room. Grand reception hall. Elegant formal rooms. Graceful marble stair leads to family level. 7 bedrooms, 7.5 baths. Master suites. Library. Music room. Office. Rec room. Elevator. Period details. Private winding drive. Garden. Private tennis court. 2007 San Francisco Decorator Showcase. Property history & floor plans on property and agent's website.
$45 million?  Someone doesn't understand that if the house won't sale, your price is FAIL!
I want to look at that "Days on Redfin" number again while my eyes pop out.  1226!  You'd almost think they don't care if they sell the house or not!  Perhaps the tenants are paying almost enough rent to cover the heating bill.
For the garage.
I'm sure the Assessor's Office is keeping an eye on this one, as it only paid $7,000 in taxes last year.  To give you an idea how little that is, if you were to buy this house and put $9 million down, your 15 year fixed loan of $36 million would cost you $261,000.  A month.  And that's assuming you could get the 3.75% mortgage rate Redfin helpfully put in for you.  Do you think you'd have to apply for a jumbo?
One last thing about this expensive, er, expansive, listing.  Here's what Redfin has to say about the 2008 observation:
The seller has requested that all public comments be removed from this listing. Per MLS rules, we are not allowed to link to blog posts about this home.
Fortunately, we are.  Otherwise we'd have to keep following up on 13 Lucky Street.